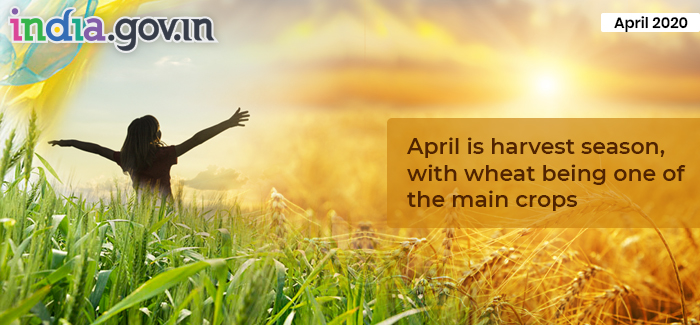 As the world faces a pandemic, it is making efforts to prevent and also evolve a lasting cure for Novel Coronavirus (COVID-19). The remaining board exams for Classes X & XII stand deferred. Few institutions are beginning new academic sessions online with the aid of technology.
April has an abundance of festivals including Ram Navami, Mahavir Jayanti, Easter, Vaisakhi/Vishu, Mesadi/Vaisakhadi/Bahag Bihu, some of which may need to be observed at respective homes to ensure social distancing for combating COVID-19, until an effective solution is found globally.
SPOTLIGHT
Combating Coronavirus
Coronavirus disease (COVID-19) is an infectious disease caused by a newly discovered coronavirus strain. WHO (World Health Organization) has declared COVID-19 to be a pandemic.


View More

MOBILE APPS
Blood Pressure Monitor
'mSwasthya Blood Pressure Monitor' keeps track of an individuals' blood pressure values. Patients with history of blood pressure can maintain a record of the BP values and see a trend chart...


View More
DID YOU KNOW?
PM CARES Fund
Keeping in mind the objective of dealing with any kind of emergency or distress situation, like the COVID-19 pandemic, and to provide relief to the affected, a public charitable trust under the name of PM CARES Fund has been set up.
We have been adding new content across
all the sections of the Portal.
Following are some of the recently added content
WHAT'S NEW

MOST VIEWED ON NATIONAL PORTAL

NEWLY LAUNCHED / REVAMPED GOVERNMENT WEBSITES

HELPLINE NUMBERS
Novel Coronavirus : +91-11-23978046 or 1075
We, at the National Portal of India, are dedicated to keep you informed about all the latest developments pertaining to India and its diverse facets by providing a unique gateway to access important information. Our constant endeavour is to make your visit to the National Portal a more satisfying experience. We wish to get your kind support as we have been receiving so far. If you have any suggestion or feedback


DO WRITE TO US
Forward this newsletter to your contacts to notify them about the latest activities of the Government. Do write to us about other new features that you would like to see on this portal. We always welcome your views and suggestions. Hope your visit to the National Portal of India is an engaging and fruitful experience.
This is a monthly newsletter sent to you by the National Portal of India.