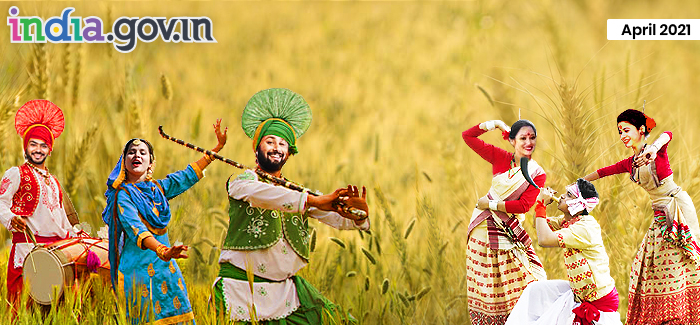 India is facing the second wave of COVID-19, and globally too, the next wave is being encountered with increased caution.
India's vaccination drive moves to the next level with focus on those who are aged above 45 years. We need to continue being extremely careful in following safety guidelines to tide over this challenge.
April is host to occasions such as Good Friday, Easter Sunday, Chaitra Sukladi/Gudi Padava/Ugadi/Cheti Chand/Vaisakhi/Vishu, Mesadi Tamil New Year's Day, Ambedkar Jayanti, Vaisakhadi/Bahag Bihu, Ram Navami, and Mahavir Jayanti.
SPOTLIGHT
Atal Bimit Vyakti Kalyan Yojana
The scheme has been extended for the period from 01.07.2020 to 30.06.2021. In order to provide benefit to the IPs who have become unemployed during COVID19 pandemic...


View More

MOBILE APPS
e-GOPALA
e-GOPALA provides a platform to farmers in the country for managing livestock including buying and selling of disease free germplasm in all forms (semen, embryos, etc); availability of quality...


View More
DID YOU KNOW?
Parivar Pehchan Patra Yojna
Parivar Pehchan Patra Yojna (PPP) identifies each and every family in Haryana and keeps the basic data of the family, with the consent of the family, in a digital format. Each family will be provided an eight digit Family-Id.
We have been adding new content across
all the sections of the Portal.
WHAT'S NEW

MOST VIEWED ON NATIONAL PORTAL

NEWLY LAUNCHED / REVAMPED GOVERNMENT WEBSITES

HELPLINE NUMBERS
Atal Beemit Vyakti Kalyan Yojana: 1800-11-2526
We, at the National Portal of India, are dedicated to keep you informed about all the latest developments pertaining to India and its diverse facets by providing a unique gateway to access important information. Our constant endeavour is to make your visit to the National Portal a more satisfying experience. We wish to get your kind support as we have been receiving so far. If you have any suggestion or feedback


DO WRITE TO US
Forward this newsletter to your contacts to notify them about the latest activities of the Government. Do write to us about other new features that you would like to see on this portal. We always welcome your views and suggestions. Hope your visit to the National Portal of India is an engaging and fruitful experience.
This is a monthly newsletter sent to you by the National Portal of India.