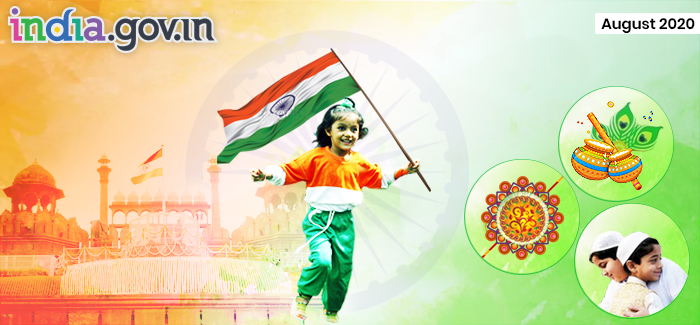 Along with the advancing monsoons, August augurs a time for several festivals across India. While some parts of the nation are dealing with floods, others are making the most of the normal monsoons.
The economy begins to show signs of revival, as citizens continue to exercise caution by maintaining social distancing while rigorously resuming commercial activities.
Id-ul-Zuha (Bakrid), Raksha Bandhan, Janmashtami, Independence Day, Parsi New Year's Day, Ganesh Chaturthi, Muharram & Onam are all observed in August.
SPOTLIGHT
Collaborating to Overcome COVID-19
India has put up a brave front so far, and despite the teeming billion plus population, managed to mitigate the speed of the pandemic's spread...


View More

MOBILE APPS
COVA Punjab
COVA Punjab App has been developed by Government of Punjab to provide citizens with preventive care information and other government advisories.


View More
DID YOU KNOW?
COVID-19 National Teleconsultation Centre
AIIMS-Delhi is running the "COVID-19 National Teleconsultation Centre" (CoNTeC) on behalf of the Ministry of Health and Family Welfare. It is catering to doctors, from anywhere in the country, who want to consult the faculty for the management of COVID-19 patients, as well as to the public in general.
We have been adding new content across
all the sections of the Portal.
Following are some of the recently added content
WHAT'S NEW

MOST VIEWED ON NATIONAL PORTAL

NEWLY LAUNCHED / REVAMPED GOVERNMENT WEBSITES

HELPLINE NUMBERS
COVID-19 National Teleconsultation Centre (CoNTeC) : (+91) 9115444155
We, at the National Portal of India, are dedicated to keep you informed about all the latest developments pertaining to India and its diverse facets by providing a unique gateway to access important information. Our constant endeavour is to make your visit to the National Portal a more satisfying experience. We wish to get your kind support as we have been receiving so far. If you have any suggestion or feedback


DO WRITE TO US
Forward this newsletter to your contacts to notify them about the latest activities of the Government. Do write to us about other new features that you would like to see on this portal. We always welcome your views and suggestions. Hope your visit to the National Portal of India is an engaging and fruitful experience.
This is a monthly newsletter sent to you by the National Portal of India.