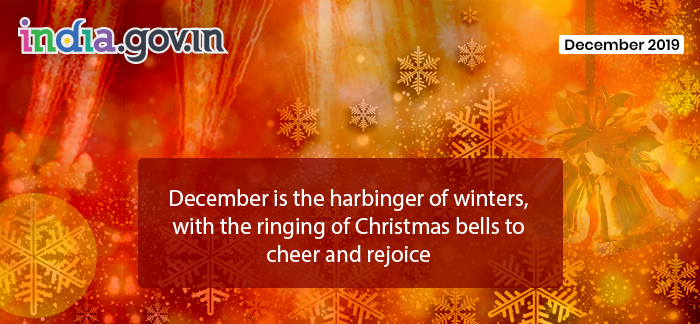 Newsletter: December 2019
December is also the time to continue sowing of Rabi crops such as wheat, barley, mustard, seasame and peas. Winter vacations in schools & colleges create an opportunity to go visit places and bond with family & loved ones. 2019 December brings to a close an year of many happenings; several challenges presented themselves & India rose to overcome most and learn from the hitherto unsurmountable ones.
SPOTLIGHT

Pradhan Mantri Innovative Learning Programme - DHRUV
The Pradhan Mantri Innovative Learning Programme - DHRUV has been started by MHRD to identify and encourage talented children to enrich their skills and knowledge.


View More

MOBILE APPS

English to Indian Language Translator
Mobile Translator Application on Android is being developed under English to Indian Languages Translation system using the AnglaBharati Translation Engine.


View More
DID YOU KNOW?

Search Voter lists & Polling booths
Voters can use these services, provided by the Election Commission of India, to search their names in the nation-wide electoral rolls and get the information related to polling stations.
We have been adding new content across
all the sections of the Portal.
Following are some of the recently added content
WHAT'S NEW

MOST VIEWED ON NATIONAL PORTAL

NEWLY LAUNCHED / REVAMPED GOVERNMENT WEBSITES

HELPLINE NUMBERS
E-AUSHADHI: 1800-11-22-02 | PM-SYM: 1800-267-6888
We, at the National Portal of India, are dedicated to keep you informed about all the latest developments pertaining to India and its diverse facets by providing a unique gateway to access important information. Our constant endeavour is to make your visit to the National Portal a more satisfying experience. We wish to get your kind support as we have been receiving so far. If you have any suggestion or feedback


DO WRITE TO US
Forward this newsletter to your contacts to notify them about the latest activities of the Government. Do write to us about other new features that you would like to see on this portal. We always welcome your views and suggestions. Hope your visit to the National Portal of India is an engaging and fruitful experience.
This is a monthly newsletter sent to you by the National Portal of India.