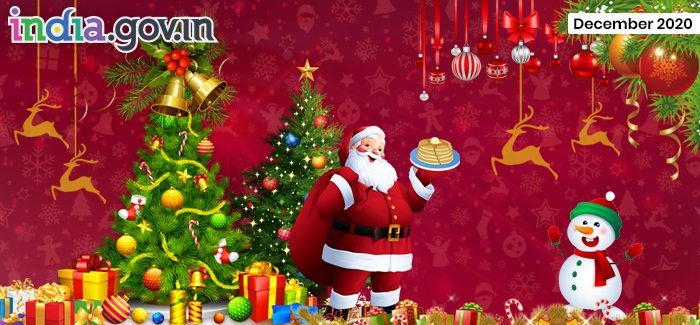 After witnessing comparatively lower temperatures for this time of the year, the cool weather in December bodes well for Rabi crops that flourish in winters.
As a nation, we have fared well so far in containing the spread of the pandemic, and while maintaining our focus on growth, we need to remain diligent in observing safety guidelines.
Christmas is celebrated with zeal & fervor in December.
SPOTLIGHT
PMMMNMTT Scheme
PMMMNMTT aims to infuse innovation in pedagogy (teaching) leading to better learning outcomes. Given the massive growth of education at all levels including elementary, secondary, higher, technical...


View More

MOBILE APPS
AIIMS Bhubaneswar Swasthya
It allows patients to use telemedicine facility to consult with doctors and view prescriptions for completed requests, as well as view department-wise consultant schedule and tariffs.


View More
DID YOU KNOW?
Kishori Shakti Yojna
Kishori Shakti Yojana (KSY) seeks to empower adolescent girls, so as to enable them to take charge of their lives. It is viewed as an initiative for the holistic development of adolescent girls.
We have been adding new content across
all the sections of the Portal.
Following are some of the recently added content
WHAT'S NEW

MOST VIEWED ON NATIONAL PORTAL

NEWLY LAUNCHED / REVAMPED GOVERNMENT WEBSITES

HELPLINE NUMBERS
ESIC Office: 1800-11-2526, 1800-11-3839 (Medical)
We, at the National Portal of India, are dedicated to keep you informed about all the latest developments pertaining to India and its diverse facets by providing a unique gateway to access important information. Our constant endeavour is to make your visit to the National Portal a more satisfying experience. We wish to get your kind support as we have been receiving so far. If you have any suggestion or feedback


DO WRITE TO US
Forward this newsletter to your contacts to notify them about the latest activities of the Government. Do write to us about other new features that you would like to see on this portal. We always welcome your views and suggestions. Hope your visit to the National Portal of India is an engaging and fruitful experience.
This is a monthly newsletter sent to you by the National Portal of India.