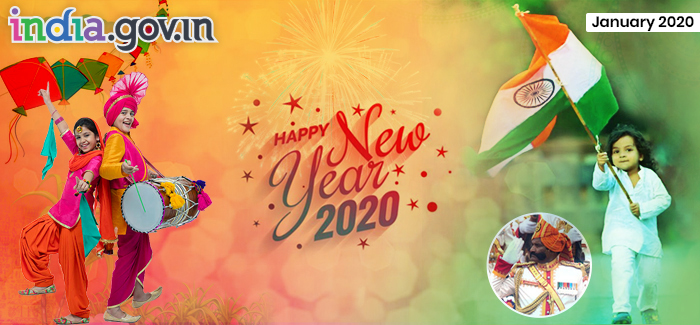 January 2020 marks the start of a new year & a decade of hope & opportunities.
Wish all readers fulfilling times ahead in 2020.
As parts of India are witnessing cold waves, new records are being set that were unprecedented in the last over 100 years! Festivals lined up this January include Republic Day, Guru Gobind Singh's Birthday, Lohri, Makar Sankranti/Pongal & Basant Panchami.
SPOTLIGHT
Scheme of Fund for Regeneration of Traditional Industries (SFURTI)
SFURTI is an initiativeby Ministry of MSME to promote Cluster development. KVIC is the nodal Agency for promotion of Cluster development for Khadi.


View More

MOBILE APPS
Citizen Voter Services
Formerly known as "Voter Services". Using This Application citizen can Search their name in electoral roll, Apply for New voter Id, Correction in voter id and deletion of name from the electoral roll.


View More
DID YOU KNOW?
Mid Day Meal Scheme
Tamil Nadu was the first to initiate a massive noon meal programme to children. Neither a child that is hungry, nor a child that is ill can be expected to learn. Realizing this need the Mid-Day Meal (MDM) Scheme was launched in primary schools during 1962-63.
We have been adding new content across
all the sections of the Portal.
Following are some of the recently added content
WHAT'S NEW

MOST VIEWED ON NATIONAL PORTAL

NEWLY LAUNCHED / REVAMPED GOVERNMENT WEBSITES

HELPLINE NUMBERS
ESIC: 1800-11-2526 | ESIC Medical related queries/advice : 1800-11-3839
We, at the National Portal of India, are dedicated to keep you informed about all the latest developments pertaining to India and its diverse facets by providing a unique gateway to access important information. Our constant endeavour is to make your visit to the National Portal a more satisfying experience. We wish to get your kind support as we have been receiving so far. If you have any suggestion or feedback


DO WRITE TO US
Forward this newsletter to your contacts to notify them about the latest activities of the Government. Do write to us about other new features that you would like to see on this portal. We always welcome your views and suggestions. Hope your visit to the National Portal of India is an engaging and fruitful experience.
This is a monthly newsletter sent to you by the National Portal of India.