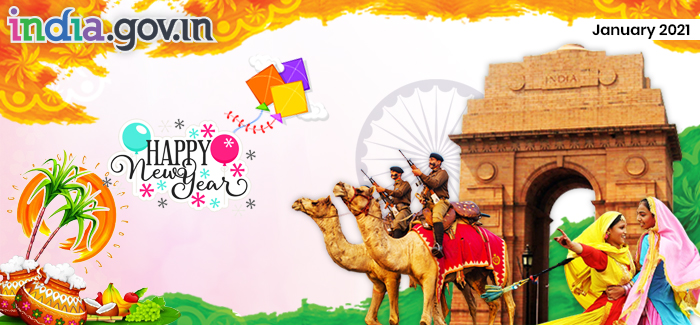 Wish all readers a healthy & safe 2021.
2021 has begun on a wet note for some parts of India that have witnessed winter rains.
The new year brings hope with the approval of two Covid19 vaccines, that have been made in India, for emergency use. Even after this development, we do need to maintain extreme caution as new strains of the virus pose a continuing threat.
January 26th witnesses the nation celebrating its 72nd Republic Day. Other festivals in this month include Lohri, Makar Sankranti/Pongal, & Guru Gobind Singh's Birthday.
SPOTLIGHT
Unnat Bharat Abhiyan
Unnat Bharat Abhiyan a flagship programme of the Government of India inspired by the vision of transformational change in rural development processes by leveraging knowledge institutions to help build the architecture of an Inclusive India. This was a dream of the father of the nation Mahatma Gandhi that real India is residing in rural areas and their development...


View More

MOBILE APPS
Provision of Public Services
This app provides guidelines to develop standard based mobile solutions, integrate the mobile applications with the common e-Governance infrastructure and to deliver public services round-the-clock to the users using m-Governance; to utilize massive reach of mobile phones and harness the potential of mobile applications to enable easy access, especially in the rural areas.


View More
We have been adding new content across
all the sections of the Portal.
WHAT'S NEW

MOST VIEWED ON NATIONAL PORTAL

NEWLY LAUNCHED / REVAMPED GOVERNMENT WEBSITES

HELPLINE NUMBERS
KRISHI (FARMER CALL CENTRE): 1551/18001801551
We, at the National Portal of India, are dedicated to keep you informed about all the latest developments pertaining to India and its diverse facets by providing a unique gateway to access important information. Our constant endeavour is to make your visit to the National Portal a more satisfying experience. We wish to get your kind support as we have been receiving so far. If you have any suggestion or feedback


DO WRITE TO US
Forward this newsletter to your contacts to notify them about the latest activities of the Government. Do write to us about other new features that you would like to see on this portal. We always welcome your views and suggestions. Hope your visit to the National Portal of India is an engaging and fruitful experience.
This is a monthly newsletter sent to you by the National Portal of India.