Newsletter: January 2022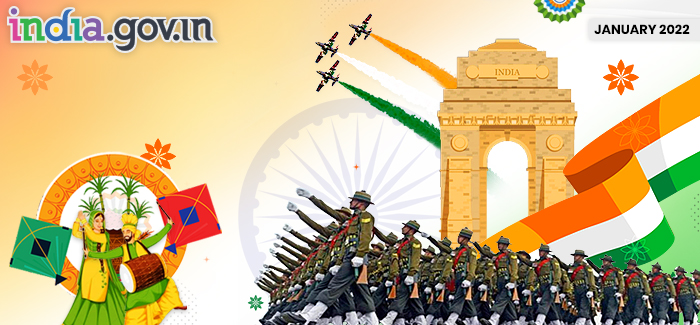 Wish all readers a happy, healthy & safe 2022. The year has begun with a cold wave in some Northern States.
The vaccine for age group 15-18 years is now available. Overall, we have crossed 146 crore+ COVID19 vaccine doses, & given the surge of positive cases, we need to continue maintaining heightened precautions of social distancing, hand & mask hygiene, along with maintaining a healthy diet & activity regimen.
The nation celebrates its 73rd Republic Day this month. Guru Gobind Singh's Birthday, Lohri, Makar Sankranti/Pongal/Magha Bihu are also celebrated this January.
SPOTLIGHT

Rashtriya Jal Jeevan Kosh
Rashtriya Jal Jeevan Kosh (RJJK) will enable individuals, institutions, corporations, or philanthropists, either in India or abroad, to contribute/donate to provide tap water connection in every rural household, school, Anganwadi centre, ashram shala, and other public institutions.


View More

MOBILE APPS

Bhasha Sangam - Learn Indian Languages
Bhasha Sangam App has been designed to facilitate online language learning .This app allows a user to learn as many languages as he or she wishes to, simultaneously. Under #EkBharatShreshthaBharat, Ministry of Education and MyGov India powered by Multibhashi...


View More
DID YOU KNOW?

Startup India Seed Fund Scheme
Startup India Seed Fund Scheme encourages Incubators and Startups to Apply for financial assistance for Proof of Concept, Prototype Development, Product Trials, Market Entry and Commercialization.
We have been adding new content across
all the sections of the Portal.
Following are some of the recently added content
WHAT'S NEW

MOST VIEWED ON NATIONAL PORTAL

NEWLY LAUNCHED / REVAMPED GOVERNMENT WEBSITES

HELPLINE NUMBERS

National Helpline Against Atrocities (NHAA): 14566
We, at the National Portal of India, are dedicated to keep you informed about all the latest developments pertaining to India and its diverse facets by providing a unique gateway to access important information. Our constant endeavour is to make your visit to the National Portal a more satisfying experience. We wish to get your kind support as we have been receiving so far. If you have any suggestion or feedback


DO WRITE TO US
Forward this newsletter to your contacts to notify them about the latest activities of the Government. Do write to us about other new features that you would like to see on this portal. We always welcome your views and suggestions. Hope your visit to the National Portal of India is an engaging and fruitful experience.
This is a monthly newsletter sent to you by the National Portal of India.