As temperatures peak, respite arrives for more than half the country with the first monsoon showers. Schools reopen albeit with the delay of a week in some Northen States to spare the young ones the sapping heat.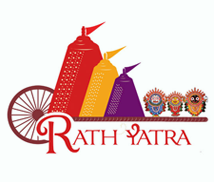 July sees the conducting of the auspicious Ratha Yatra, also referred to as Rathajatra or Chariot festival. A public procession of the deities Jagannath (Lord Vishnu's avatar), Balabhadra (Lord Jagannath's brother), Subhadra (Lord Jagannath's sister) and Sudarshana Chakra (Lord Jagannath's weapon) is conducted in a chariot (ratha). Rath Yatra at Puri attracts hundreds of pilgrims who join the procession each year. The event is a major community heritage, being an occasion for social sharing and cultural propagation.
We, at the National Portal of India, are dedicated to keep you informed about all the latest developments pertaining to India and its diverse facets by providing a unique gateway to access important information. Our constant endeavour is to make your visit to the National Portal a more satisfying experience. We wish to get your kind support as we have been receiving so far. Do write to us, if you have any suggestion or feedback.