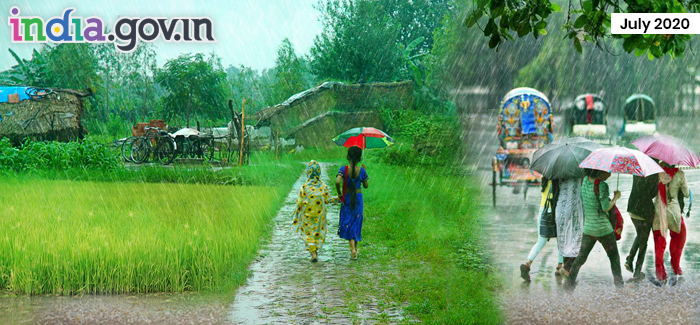 July brings on expanding reach of the monsoons. Sowing of Kharif crops such as rice, corn, cotton, soybeans, sugarcane & peanuts continues.
Academic institutions reopen mostly online after the Summer vacations to take forward the academic growth while protecting health of students and all stakeholders. The graded unlocking has been received maturely by citizens, while adhering to safety guidelines.
SPOTLIGHT
Helping MSMEs Grow & Reviving Economy
The motto of the Champions portal is to solve problems of the MSME sector in the short run and create them as National...


View More

MOBILE APPS
Aarogya Setu App
With Aarogya Setu, you can protect yourself, your family & friends, & help our country in the effort to fight COVID-19...


View More
DID YOU KNOW?
Aatma Nirbhar Uttar Pradesh Rojgar Abhiyan
Under Aatma Nirbhar Uttar Pradesh Rojgar Abhiyan, local entrepreneurship will be promoted along with providing employment opportunities to migrant workers.
We have been adding new content across
all the sections of the Portal.
Following are some of the recently added content
WHAT'S NEW

MOST VIEWED ON NATIONAL PORTAL

NEWLY LAUNCHED / REVAMPED GOVERNMENT WEBSITES

HELPLINE NUMBERS
Blood Services Query, IRCS : 011-23359379, 9319982104, 9319982105
We, at the National Portal of India, are dedicated to keep you informed about all the latest developments pertaining to India and its diverse facets by providing a unique gateway to access important information. Our constant endeavour is to make your visit to the National Portal a more satisfying experience. We wish to get your kind support as we have been receiving so far. If you have any suggestion or feedback


DO WRITE TO US
Forward this newsletter to your contacts to notify them about the latest activities of the Government. Do write to us about other new features that you would like to see on this portal. We always welcome your views and suggestions. Hope your visit to the National Portal of India is an engaging and fruitful experience.
This is a monthly newsletter sent to you by the National Portal of India.