Newsletter: July 2021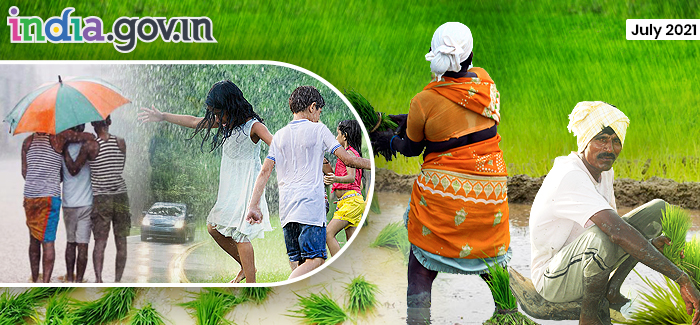 As a heat wave scorches the capital & neighboring areas, the monsoons are quenching other parts of India. Hopefully, the weather will offer much needed respite once the rains arrive.
Even as the pace of vaccination against COVID-19 steadily gathers momentum, the discovery of new variants such as the Delta variant, points to the continued necessity for observing abundant caution so as to preserve good health & save lives.
July is the month of the famed Rath Yatra, and also Id-ul-Zuha (Bakrid).
SPOTLIGHT

PM Garib Kalyan Package
The PM Garib Kalyan Package has committed to providing food to over 80 crore individuals until Nov 2021, and ensuring safety of the frontline Health Workers for another year...


View More

MOBILE APPS

Atmanirbhar Krishi
The application brings together data relevant to the farmer and his farm, from various agencies and departments of the Government of India: IMD, ISRO, DACFW, NWIC, CGWA, ICAR etc.


View More
DID YOU KNOW?

Check your nearest Vaccination Center & Slots availability
CoWIN is an online platform to easily register for vaccination, using your Mobile no. CoWIN enables you to book a preferred slot at a nearby center to get the vaccine. Do carry your Aadhaar or any other Identity docs when visiting the center for vaccination. Access the Frequently Asked Questions (FAQ) section for any queries.
We have been adding new content across
all the sections of the Portal.
Following are some of the recently added content
WHAT'S NEW

MOST VIEWED ON NATIONAL PORTAL

NEWLY LAUNCHED / REVAMPED GOVERNMENT WEBSITES

HELPLINE NUMBERS

AYUSH COVID-19 Counselling Helpline: 14443
We, at the National Portal of India, are dedicated to keep you informed about all the latest developments pertaining to India and its diverse facets by providing a unique gateway to access important information. Our constant endeavour is to make your visit to the National Portal a more satisfying experience. We wish to get your kind support as we have been receiving so far. If you have any suggestion or feedback


DO WRITE TO US
Forward this newsletter to your contacts to notify them about the latest activities of the Government. Do write to us about other new features that you would like to see on this portal. We always welcome your views and suggestions. Hope your visit to the National Portal of India is an engaging and fruitful experience.
This is a monthly newsletter sent to you by the National Portal of India.