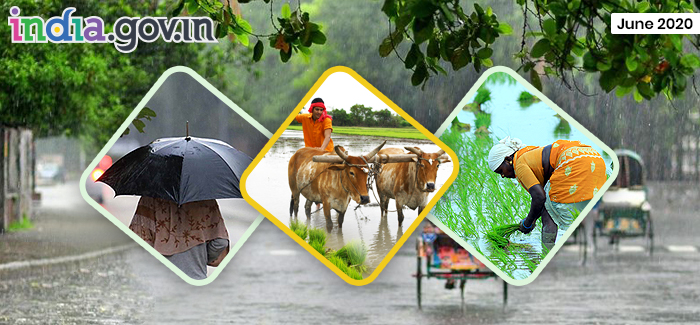 June sees respite arriving from the scorching Summers with the South West monsoon expected to make landfall by early this month. The situation with Novel Coronavirus remains precarious, and it is now the collective citizen efforts that can help us overcome this challenge.
Annual Summer vacations for academic institutions have begun giving families an opportunity to relish the time that they get to spend together at home, due to prevalent circumstances. Workers in various sectors of the Economy venture out of their homes as graded easing is done to ensure resumption of several commerce processes, while observing safety guidelines.
June is when the annual Rath Yatra, the Festival of Chariots of Lord Jagannatha is celebrated.
SPOTLIGHT
Building Atmanirbhar Bharat and Overcoming COVID-19
The Five pillars of Atmanirbhar Bharat focus on: Economy, Infrastructure, System, Vibrant Demography and Demand


View More

MOBILE APPS
Aarogya Setu App
With Aarogya Setu, you can protect yourself, your family and friends, and help our country in the effort to fight COVID-19...


View More
DID YOU KNOW?
One Stop for All COVID-19 Notifications
The COVID-19 Inter-Ministerial Notifications website provides COVID-19 related notifications from various Ministries in an accessible format, & is built using the S3WaaS framework, that is secure & scalable.
We have been adding new content across
all the sections of the Portal.
Following are some of the recently added content
WHAT'S NEW

MOST VIEWED ON NATIONAL PORTAL

NEWLY LAUNCHED / REVAMPED GOVERNMENT WEBSITES

HELPLINE NUMBERS
COVID-19 National Teleconsultation Centre : +91-9115444155
We, at the National Portal of India, are dedicated to keep you informed about all the latest developments pertaining to India and its diverse facets by providing a unique gateway to access important information. Our constant endeavour is to make your visit to the National Portal a more satisfying experience. We wish to get your kind support as we have been receiving so far. If you have any suggestion or feedback


DO WRITE TO US
Forward this newsletter to your contacts to notify them about the latest activities of the Government. Do write to us about other new features that you would like to see on this portal. We always welcome your views and suggestions. Hope your visit to the National Portal of India is an engaging and fruitful experience.
This is a monthly newsletter sent to you by the National Portal of India.