Newsletter: June 2021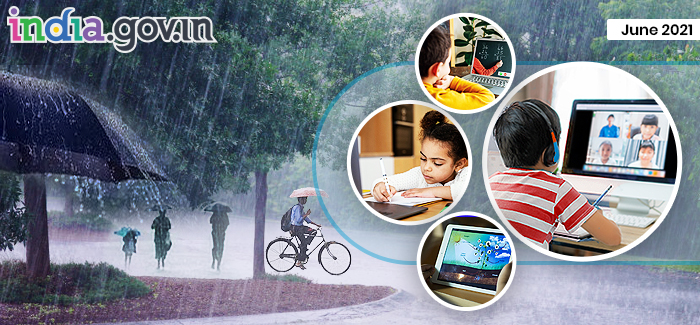 The south west monsoons are expected to make landfall May end this year. This is just a few days shy of the re-opening of academic institutions, albeit in the online mode, so may allow families to experience learning at home with cooler weather.
With a war-like strategy of partial lockdowns, identifying and effectively managing Large Outbreak Regions (LOR), and vaccinating all citizens aged 18 and above, the current wave of COVID-19, seems to have abated a bit for now.
The need to strictly follow safety guidelines, such as wearing masks, regular hand hygiene, however still remains the most important of all measures, in the interest of preventing a renewed upsurge of infection and for saving lives. In addition, maintaining a healthy diet, regular exercise & keeping a positive mindset count among the fortifying factors for building better immunity.
SPOTLIGHT

Startup India Seed Fund Scheme
The scheme aims to provide startups with financial assistance at their early stages such as proof of concept, prototyping, product trials, market entry and commercialization.


View More

MOBILE APPS

eCourts Services
eCourts Services App is useful to Citizens, Litigants, Lawyers, Police, Government Agencies and other Institutional Litigants. The App provides information related to Cases filed in the Subordinate courts...


View More
DID YOU KNOW?

Integrated Government Online Directory
(https://goidirectory.gov.in/)
Integrated Government Online Directory (iGOD) provides a single point source to know all about Indian Government websites at all levels and from all sectors. This website aims to provide comprehensive, accurate, and reliable information about Government websites in India.
We have been adding new content across
all the sections of the Portal.
Following are some of the recently added content
WHAT'S NEW

MOST VIEWED ON NATIONAL PORTAL

NEWLY LAUNCHED / REVAMPED GOVERNMENT WEBSITES

HELPLINE NUMBERS

Delhi Police Covid Helpline: 011-23469900
We, at the National Portal of India, are dedicated to keep you informed about all the latest developments pertaining to India and its diverse facets by providing a unique gateway to access important information. Our constant endeavour is to make your visit to the National Portal a more satisfying experience. We wish to get your kind support as we have been receiving so far. If you have any suggestion or feedback


DO WRITE TO US
Forward this newsletter to your contacts to notify them about the latest activities of the Government. Do write to us about other new features that you would like to see on this portal. We always welcome your views and suggestions. Hope your visit to the National Portal of India is an engaging and fruitful experience.
This is a monthly newsletter sent to you by the National Portal of India.