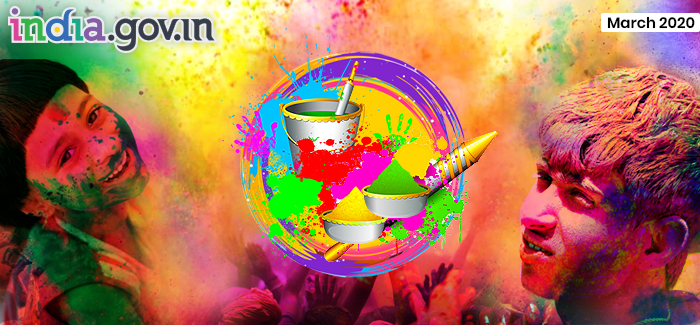 March is Board exam time for Classes X & XII.
The Rabi crops are ripening with the right climatic conditions, indicating a bountiful harvest is imminent.
Festivals lined up in March include Holika Dahan/Dolyatra/Hazrat Ali's Birthday, Holi & Chaitra Sukladi/Gudi Padava/Ugadi/Cheti Chand.
SPOTLIGHT
Pradhan Mantri Jan Vikas Karyakram
Pradhan Mantri Jan Vikas Karyakram (PMJVK) is a scheme designed to address the development deficits of the identified Minority Concentration Areas. Prior to Pradhan Mantri Jan Vikas Karyakram, the Ministry implemented the Multi-Sectoral Development Programme.


View More

MOBILE APPS
Pincode Finder
Know your pin is an app to help citizens get information of pin-code of their locality and nearest post office. Selecting the locality helps to get a list of post offices in a region. Using pin-code helps get information of post office and its postal region, district, city.


View More
DID YOU KNOW?
e-Rakt Kosh: Blood bank Stock Availability
e-Rakt Kosh provides information about availability of Blood Components such as Whole Blood, Platelets, Plasma, Cryoprecipitates etc in Government and other Blood Banks. An online search can be done from the available lists of States & Districts to locate the Blood Bank(s) and available Blood Component.
We have been adding new content across
all the sections of the Portal.
Following are some of the recently added content
WHAT'S NEW

MOST VIEWED ON NATIONAL PORTAL

NEWLY LAUNCHED / REVAMPED GOVERNMENT WEBSITES

HELPLINE NUMBERS
Employees' State Insurance Corporation: 1800-11-2526
We, at the National Portal of India, are dedicated to keep you informed about all the latest developments pertaining to India and its diverse facets by providing a unique gateway to access important information. Our constant endeavour is to make your visit to the National Portal a more satisfying experience. We wish to get your kind support as we have been receiving so far. If you have any suggestion or feedback


DO WRITE TO US
Forward this newsletter to your contacts to notify them about the latest activities of the Government. Do write to us about other new features that you would like to see on this portal. We always welcome your views and suggestions. Hope your visit to the National Portal of India is an engaging and fruitful experience.
This is a monthly newsletter sent to you by the National Portal of India.