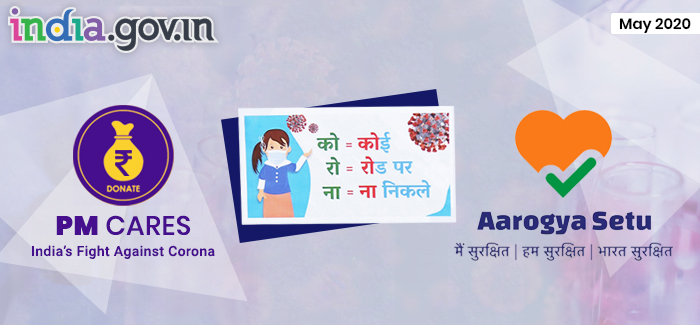 This May brings on a Summer unseen in the past at least 100 years, with fewer fossil fuels burning as the nation and most countries globally remain locked down, to save lives from the deadly Novel Coronavirus.
Academic institutions and many workplaces have comfortably aligned with remote working, using the trinity of telephone, internet, and videoconferencing to synergize between faculty and students, and collaborating with colleagues virtually.
May celebrates festivals such as Buddha Purnima and Id-ul-Fitr. Like the previous month, social distancing will likely remain the norm with this month's festivities too.
SPOTLIGHT
Fight Against COVID-19
A couple months into the fight against COVID-19, India has seen a mature populace that has largely put up a brave face...


View More

MOBILE APPS
Aarogya Setu App
With Aarogya Setu, you can protect yourself, your family and friends, and help our country in the effort to fight COVID-19...


View More
DID YOU KNOW?
Volunteer/Donate for Fight Against Corona
MyGov India, in collaboration with National Disaster Management Authority (NDMA) and the Ministry of Health & Family Welfare, is calling upon Individuals and Organisations to Volunteer or Donate towards India's Fight Against Corona.
We have been adding new content across
all the sections of the Portal.
Following are some of the recently added content
WHAT'S NEW

MOST VIEWED ON NATIONAL PORTAL

NEWLY LAUNCHED / REVAMPED GOVERNMENT WEBSITES

HELPLINE NUMBERS
National Institute of Mental Health and Neuro-Science : +91-8046110007
We, at the National Portal of India, are dedicated to keep you informed about all the latest developments pertaining to India and its diverse facets by providing a unique gateway to access important information. Our constant endeavour is to make your visit to the National Portal a more satisfying experience. We wish to get your kind support as we have been receiving so far. If you have any suggestion or feedback


DO WRITE TO US
Forward this newsletter to your contacts to notify them about the latest activities of the Government. Do write to us about other new features that you would like to see on this portal. We always welcome your views and suggestions. Hope your visit to the National Portal of India is an engaging and fruitful experience.
This is a monthly newsletter sent to you by the National Portal of India.