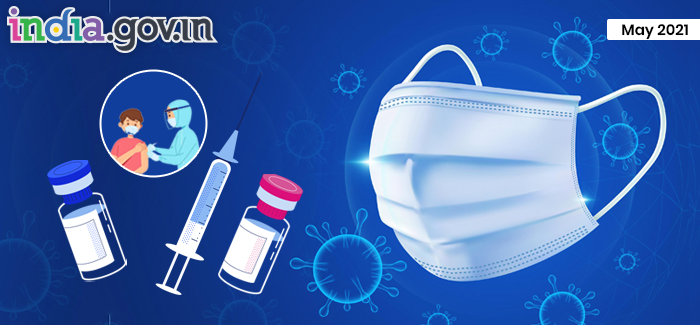 To overcome the tremendous challenges posed by the current wave of COVID-19, India's vaccination scope effective 1st May includes those who are aged above 18 years.
While our caution over the past year helped us flatten the initial infection curve, we now need to be even more careful in following safety guidelines such as wearing masks, regular washing of hands & getting vaccinated as per eligibility, in addition to maintaining a healthy lifestyle to successfully overcome this challenge.
The month of May witnesses occasions such as Jamat-Ul-Vida, Guru Rabindranath Tagore's Birthday, Id-Ul-Fitr and Buddha Purnima.
SPOTLIGHT
Resources to Overcome COVID-19
The first quarter of 2021 saw resurgence of hope and economic activity, indicating return of normalcy since the battle with the global pandemic began in the past year. With the onset of April...


View More

MOBILE APPS
DGFT Trade Facilitation App
Trade Facilitation Mobile App is a symbol of India's idea of Aatmanirbharta - Making governance easy, economical & accessible, as it symbolises shift in traditional thinking.


View More
DID YOU KNOW?
Check your nearest vaccination center and slots availability
CoWIN is a platform to register for vaccination, using your Mobile no. or Aadhaar no. or any other Identity docs. You can choose a preferred nearby Vaccine Center for vaccination. CoWIN also enables you to book your slot to get the vaccine.
We have been adding new content across
all the sections of the Portal.
Following are some of the recently added content
WHAT'S NEW

MOST VIEWED ON NATIONAL PORTAL

NEWLY LAUNCHED / REVAMPED GOVERNMENT WEBSITES

HELPLINE NUMBERS
e-SANTA Office: 1800-425-2374, 08842350655
We, at the National Portal of India, are dedicated to keep you informed about all the latest developments pertaining to India and its diverse facets by providing a unique gateway to access important information. Our constant endeavour is to make your visit to the National Portal a more satisfying experience. We wish to get your kind support as we have been receiving so far. If you have any suggestion or feedback


DO WRITE TO US
Forward this newsletter to your contacts to notify them about the latest activities of the Government. Do write to us about other new features that you would like to see on this portal. We always welcome your views and suggestions. Hope your visit to the National Portal of India is an engaging and fruitful experience.
This is a monthly newsletter sent to you by the National Portal of India.