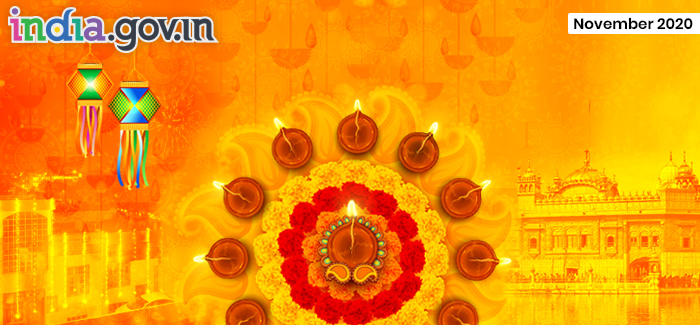 2020 November sees early onset of cooler weather in some parts of India.
The recovery rate from COVID-19 consistently shows a rising trend versus the daily incidence rate, as India resumes most commercial activities.
Karva Chouth, Deepawali, Govardhan Puja, Bhai Duj, Chhat Puja, Guru Teg Bahadur's Martyrdom & Guru Nanak's Birthday are all observed this month.
SPOTLIGHT
SVAMITVA Scheme
The scheme's intent is to provide the 'record of rights' to village household owners so that they can use their houses as financial assets to take loans and other financial benefits from Banks ....


View More

MOBILE APPS
BSafe (by Kerala Police Cyberdome)
BSafe makes your device free from spam and unwanted calls by blocking them or by a warning. It helps you to manage the blocking of numbers that you feel to be blocked from your device also.


View More
DID YOU KNOW?
RailMadad, A Grievance Redressal Mechanism
Rail Madad Portal has been developed to enable users to lodge a complaint or give suggestion online or through App./SMS. It provides facility to track live status of complaints and provide feedback based on their satisfaction with the resolution.
We have been adding new content across
all the sections of the Portal.
Following are some of the recently added content
WHAT'S NEW

MOST VIEWED ON NATIONAL PORTAL

NEWLY LAUNCHED / REVAMPED GOVERNMENT WEBSITES

HELPLINE NUMBERS
RAILWAYS - TOLL FREE NUMBER (ENQUIRY) : 1800-111-139
We, at the National Portal of India, are dedicated to keep you informed about all the latest developments pertaining to India and its diverse facets by providing a unique gateway to access important information. Our constant endeavour is to make your visit to the National Portal a more satisfying experience. We wish to get your kind support as we have been receiving so far. If you have any suggestion or feedback


DO WRITE TO US
Forward this newsletter to your contacts to notify them about the latest activities of the Government. Do write to us about other new features that you would like to see on this portal. We always welcome your views and suggestions. Hope your visit to the National Portal of India is an engaging and fruitful experience.
This is a monthly newsletter sent to you by the National Portal of India.