Newsletter: November 2021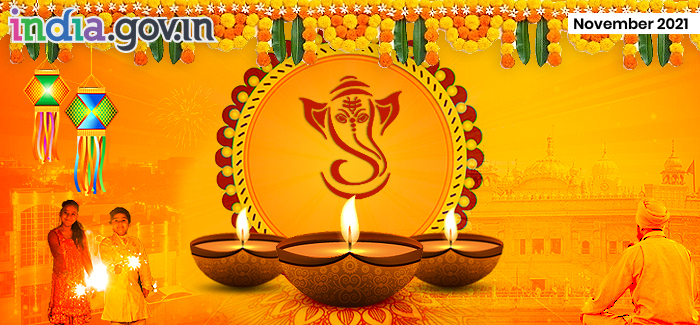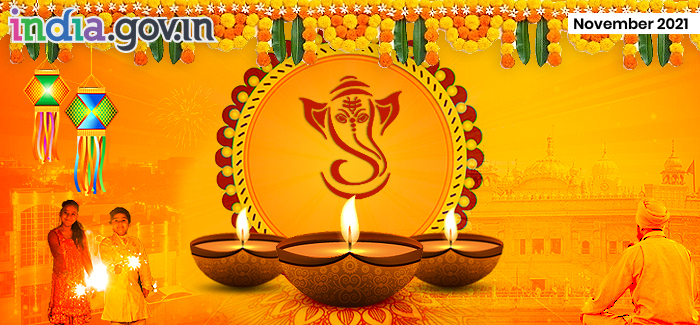 With 100 crore+ COVID19 vaccine doses administered, the season to cheer & celebrate achievements & festivals is here, albeit while continuing to maintain all precautions such as social distancing, following hand & mask hygiene, & keeping a healthy diet and activity regimen.
Deepawali, the festival of lights, is celebrated this month. Govardhan Puja, Bhai Duj, Pratihar Sashthi or Surya Sashthi (Chhat Puja), Guru Nanak's Birthday, & Guru Teg Bahadur's Martyrdom Day are also observed in November.
SPOTLIGHT

PM Gati Shakti
The objective is to ensure that all departments have visibility of each other's activities providing critical data while planning & execution of projects in a comprehensive manner. By doing this, different departments will be able to prioritise smooth & optimal execution of their projects.


View More

MOBILE APPS

Sahyog
Survey of India has developed a mobile application named Sahyog for its users viz., Government (Centre/State) departments, Organisations, Institutions, Govt employees, Academic institutions, Students and citizens of India, to voluntarily support and contribute in preparing, updating...


View More
DID YOU KNOW?

Consumer Commission Online - Application Portal
The E-Daakhil portal empowers the consumers and their advocates to file consumer complaints along with payment of requisite fees online from anywhere for the redressal of their complaints.
We have been adding new content across
all the sections of the Portal.
Following are some of the recently added content

WHAT'S NEW




MOST VIEWED ON NATIONAL PORTAL

| | |
| --- | --- |
| | NEWLY LAUNCHED / REVAMPED GOVERNMENT WEBSITES |

HELPLINE NUMBERS

UPSC Helpline for the candidates of SC/ST/OBC/EWS/PwBD: 1800-11-8711
We, at the National Portal of India, are dedicated to keep you informed about all the latest developments pertaining to India and its diverse facets by providing a unique gateway to access important information. Our constant endeavour is to make your visit to the National Portal a more satisfying experience. We wish to get your kind support as we have been receiving so far. If you have any suggestion or feedback


DO WRITE TO US
| | | |
| --- | --- | --- |
| | Forward this newsletter to your contacts to notify them about the latest activities of the Government. Do write to us about other new features that you would like to see on this portal. We always welcome your views and suggestions. Hope your visit to the National Portal of India is an engaging and fruitful experience. | |