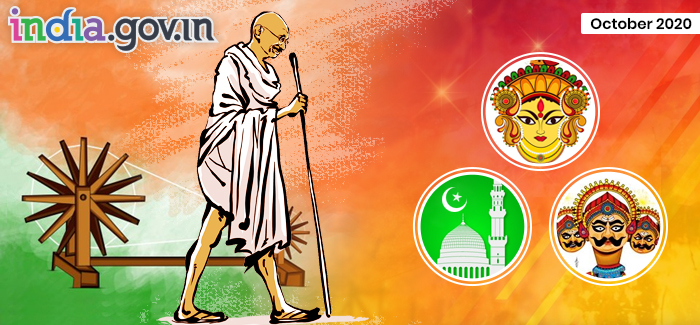 October is a time for new beginnings & also for commencement of annual festivities.
The past six months have seen India's patience & resilience in the face of an unprecedented global pandemic. The coming together of all citizens in the spirit of forbearance has made it possible to contain the spread & ensured a steady resurgence of commercial activity while preserving health for all.
Several occasions such as the birthdays of Mahatma Gandhi, Maharshi Valmiki fall in October this year. The festival of Dussehra, symbolizing the victory of good over evil and Milad-un-Nabi or Id-e-Milad (Birthday of Prophet Mohammad) will also be celebrated this month.
SPOTLIGHT
PM-SVANidhi - Empowering Street Vendors
PM Street Vendor's AtmaNirbhar Nidhi to empower Street Vendors by not only extending loans to them, but also for their holistic development & economic ....


View More

MOBILE APPS
mSBM APP
User can upload the photographs of beneficiaries receiving toilet facilities in their homes under this Mission, using a smartphone. While capturing the photograph, latitude and longitude...


View More
DID YOU KNOW?
Pradhan Mantri Surakshit Matritva Abhiyan
Pradhan Mantri Surakshit Matritva Abhiyan allows volunteer Obstetricians/Radiologists/Physicians to register online for furthering the cause of enabling safe maternity under the aegis of National Health Portal (NHP).
We have been adding new content across
all the sections of the Portal.
Following are some of the recently added content
WHAT'S NEW

MOST VIEWED ON NATIONAL PORTAL

NEWLY LAUNCHED / REVAMPED GOVERNMENT WEBSITES

HELPLINE NUMBERS
Pradhan Mantri Shram Yogi Maan-dhan (PM-SYM) : 1800-267-6888
We, at the National Portal of India, are dedicated to keep you informed about all the latest developments pertaining to India and its diverse facets by providing a unique gateway to access important information. Our constant endeavour is to make your visit to the National Portal a more satisfying experience. We wish to get your kind support as we have been receiving so far. If you have any suggestion or feedback


DO WRITE TO US
Forward this newsletter to your contacts to notify them about the latest activities of the Government. Do write to us about other new features that you would like to see on this portal. We always welcome your views and suggestions. Hope your visit to the National Portal of India is an engaging and fruitful experience.
This is a monthly newsletter sent to you by the National Portal of India.