Newsletter: August 2021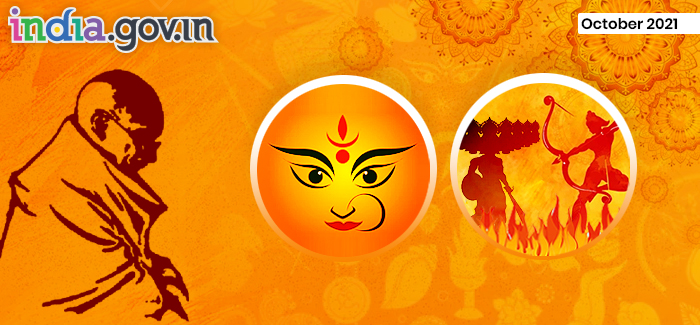 October is the beginning of the Rabi crop sowing season & several festivities.
India has steadily demonstrated resurgence of economic activity in the past few months. Over 87 crore doses of COVID19 vaccines have been administered. In the coming season of festivities, we need to continue being cautious & keep maintaining hand & mask hygiene, social distancing, follow a healthy diet and activity regimen etc. This is definitely the time to keep up our guard to prevent the onslaught from a third wave of COVID-19.
Occasions such as Mahatma Gandhi's Birthday, Durga Puja, Dussehra, Id-e-Milad, Maharshi Valmiki's Birthday, and Karva Chouth are celebrated in October.
SPOTLIGHT

Ayushman Bharat Digital Mission
Ayushman Bharat Digital Mission will connect the digital health solutions of hospitals across the country with each other. The Mission will not only make the processes of hospitals simplified but also will increase ease of living.


View More

MOBILE APPS

'Y-Break' Yoga
Presenting "Y Break", or the "Yoga Break at Workplace" program. A thoughtfully designed Yoga protocol from the Ministry of AYUSH to connect you to your breath. Y Break Protocol works wonders at the workplace by making...


View More
DID YOU KNOW?

Health ID - Key to your Digital Healthcare Journey
Using a Health ID is the first step towards creating safer and efficient digital health records for you and your family. You can opt-in to create a digitally secure Health ID, which allows you to access and share your health data with your consent, with participating healthcare providers and payers.
We have been adding new content across
all the sections of the Portal.
Following are some of the recently added content
WHAT'S NEW

MOST VIEWED ON NATIONAL PORTAL

NEWLY LAUNCHED / REVAMPED GOVERNMENT WEBSITES

HELPLINE NUMBERS

Nai Roshni: 1800-11-2001
We, at the National Portal of India, are dedicated to keep you informed about all the latest developments pertaining to India and its diverse facets by providing a unique gateway to access important information. Our constant endeavour is to make your visit to the National Portal a more satisfying experience. We wish to get your kind support as we have been receiving so far. If you have any suggestion or feedback


DO WRITE TO US
Forward this newsletter to your contacts to notify them about the latest activities of the Government. Do write to us about other new features that you would like to see on this portal. We always welcome your views and suggestions. Hope your visit to the National Portal of India is an engaging and fruitful experience.
This is a monthly newsletter sent to you by the National Portal of India.