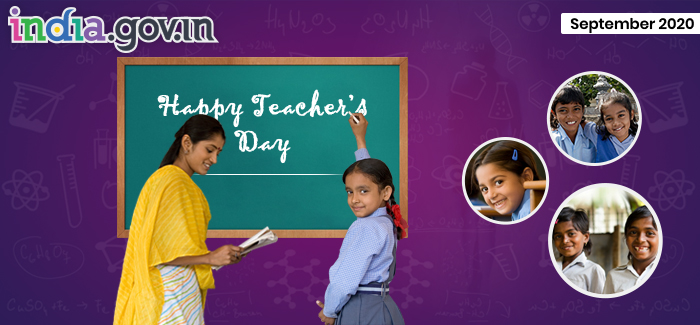 Having experienced good rain fall during this monsoon season, September is a time to harvest the crops that are ready.
The process of graded unlocking has helped the nation & all citizens to re-commit ourselves to nation building, while observing safety guidelines for ensuring good health for all.
India celebrates Teacher's Day on 5th September to commemorate the birthday of Dr. Sarvepalli Radhakhrishnan, an accomplished teacher, philosopher and India's Second President.
SPOTLIGHT
Educating Young Minds & Building a Stronger Nation
Academics for many school & college students have transitioned to an online model. The Government has announced PRAGYATA guidelines....


View More

MOBILE APPS
Corona Watch
This App is for showing the locations of Corona Affected Patients and their movement history of 14 days. General Public can use this to identify their movements in those area.


View More
DID YOU KNOW?
Garib Kalyan Rojgar Abhiyaan
The Government of India launched the Garib Kalyan Rojgar Abhiyaan initiative to empower and provide livelihood opportunities in areas/ villages witnessing large number of returnee migrant workers affected by the devastating COVID-19.
We have been adding new content across
all the sections of the Portal.
Following are some of the recently added content
WHAT'S NEW

MOST VIEWED ON NATIONAL PORTAL

NEWLY LAUNCHED / REVAMPED GOVERNMENT WEBSITES

HELPLINE NUMBERS
Visa & Travel Queries (COVID-19) : 011-24300666
We, at the National Portal of India, are dedicated to keep you informed about all the latest developments pertaining to India and its diverse facets by providing a unique gateway to access important information. Our constant endeavour is to make your visit to the National Portal a more satisfying experience. We wish to get your kind support as we have been receiving so far. If you have any suggestion or feedback


DO WRITE TO US
Forward this newsletter to your contacts to notify them about the latest activities of the Government. Do write to us about other new features that you would like to see on this portal. We always welcome your views and suggestions. Hope your visit to the National Portal of India is an engaging and fruitful experience.
This is a monthly newsletter sent to you by the National Portal of India.