Indian economy is growing optimistically with signs of robust growth and improvement in overall outlook of business and investment in the country. Manufacturing sector has improved greatly with new efforts and initiatives by the Government. To promote and boost manufacturing, Hon'ble PM Shri Narendra Modi launched the 'Make in India' Programme on 25th September 2014 to turn India into a significant investment destination and a global hub for manufacturing, design and innovation.
'Make in India' primarily focuses on manufacturing sector, but it also aims at promoting entrepreneurship in the country. It has a vision to create a friendly environment for investment, modern and efficient infrastructure, opening up new sectors for foreign investment and building a partnership between government and industry.
A positive response has been received from within the country and outside for the 'Make in India' initiative. The Investor Facilitation cell in Invest India has received more than 12000 queries on its website since the campaign launched. Countries like Japan, China, France and South Korea have shown their support to invest in India in various industrial and infrastructure projects. The following 25 sectors - External Website that opens in a new window have been identified under the 'Make in India' initiative:
Meeting Challenges of 'Make In India' Campaign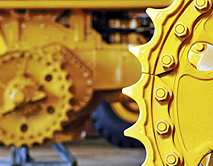 The Government has taken a number of steps to improve ease of doing business in India. Many rules and procedures have now been simplified and many products have been taken off licensing requirements.
The Government aims to provide a robust infrastructure to business by development of requisite facilities as well institutions in the country. It seeks to develop industrial corridors and smart cities to provide a state-of-the-art technology to business entities. Efforts are being made now to provide skilled manpower through the National Skill Development Mission - External Website that opens in a new window. Innovation is being encouraged through better management of patent and trademarks registration process.
Some of the key sectors have been opened for FDI now. The policy in defence sector has been liberalized and FDI cap has been raised from 26% to 49%. 100% FDI has been allowed in defence sector for modern & state of the art technology. 100% FDI under automatic route has been permitted in construction, operation and maintenance in Rail Infrastructure projects. The liberalization norms for insurance and medical devices have been approved too.
Industry related Ministries are working on sector specific targets after detailed discussion with various stakeholders in the National Workshop held on 29th December 2014. Each Ministry has identified action plan for the next one year and three years under this initiative.
'Make in India' Programme represents an attitudinal shift in how India relates to investors and their expectations. An Investor Facilitation Cell has also been created in 'Invest India'. An experienced team of the Investor Facilitation Cell is available to assist first-time investors.
Target to boost manufacturing
Aim of an increase in manufacturing sector growth to 12-14% per annum over the medium term.
An increase in the share of manufacturing in the country's Gross Domestic Product from 16% to 25% by 2022.
To create 100 million additional jobs by 2022 in manufacturing sector.
Creation of appropriate skill sets among rural migrants and the urban poor for inclusive growth.
An increase in domestic value addition and technological depth in manufacturing.
Enhancing the global competitiveness of the Indian manufacturing sector.
Ensuring sustainability of growth, particularly with regard to environment.
Roads ahead to Economic Growth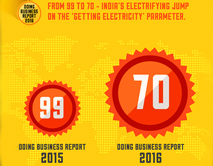 India has made its presence felt as one of the fastest growing economies of the world.
It is expected to rank amongst the world's top three growth economies and amongst the top three manufacturing destinations by 2020.
Favourable demographic dividends for the next 2-3 decades. Sustained availability of quality workforce.
The cost of manpower is relatively low as compared to other countries.
Responsible business houses operating with credibility and professionalism.
Strong consumerism in the domestic market.
Strong technical and engineering capabilities backed by top scientific and technical institutes.
Well-regulated and stable financial markets open to foreign investors.
Hassle-free Business in India
'Make in India' is a path breaking idea and it has opened up major new initiatives designed to facilitate investment, foster innovation, protect intellectual property, and build world-class manufacturing infrastructure in the country. This initiative has made the whole process of doing business easier in India. New de-licensing and deregulation measures are reducing complexity, and significantly increasing speed and transparency in the overall process.
India offers a lot more when it comes to doing business in the country. It now provides easy and transparent system to all the investors who are looking for stable economy and lucrative business opportunities. This is the right time to invest in India as the country offers a lot more in terms of growth and prosperity to one and all.
Related Links