Deen Dayal Upadhyaya Gram Jyoti Yojana (DDUGJY) is designed to provide continuous power supply to the entire rural India. The scheme was launched under leadership of Prime Minister Shri Narendra Modi in November 2014 announcing that "the government had decided to electrify 18,452 unelectrified villages within 1000 days, by May 1, 2018. It is one of the key initiatives of Government of India and a flagship programmes of the Ministry of Power. The DDUGJY can benefit rural households significantly as electricity is extremely vital for growth and development of the country.
The scheme will replace the existing Rajiv Gandhi Grameen Vidyutikaran Yojana (RGGVY) but features of RGGVY have been subsumed in the new scheme of DDUGJY and the unspent amount of RGGVY will be carried forward to DDUGJY.
The scheme is one of the flagship programmes of the Power Ministry (MoP) and will facilitate 24x7 supply of electricity.
The major components of the scheme are:
Separation of agriculture and non-agriculture feeders facilitating judicious restoring of supply to agricultural & non-agriculture consumers in the rural areas.
Strengthening and augmentation of sub-transmission & distribution infrastructure in rural areas, including metering of distribution transformers/feeders/consumers.
Micro grid and off grid distribution network & Rural electrification already sanctioned projects under RGGVY to be completed.
Salient Feature
Role of Nodal Agency
Rural Electrification Corporation Limited (REC) is the Nodal Agency for operationalization and implementation of the scheme under the overall guidance of MoP. The Nodal Agency will be paid 0.5% of the project cost approved by Monitoring Committee or award cost, whichever is lower, as their fee.
Notify all the guidelines and formats required for implementation of the project from time to time.
Appraise the Detailed Projects Reports (DPRs) before putting up to the Monitoring Committee.
Conduct all works relating to holding of the Monitoring Committee meetings for approvals.
Administer the Grant Component.
Develop a dedicated web portal for submission of DPR and for maintaining the MIS of the projects.
Monitor physical and financial progress of the projects including quality of works.
Nodal agency shall deploy Third Party services of outside agencies/manpower for concurrent evaluation of project implementation.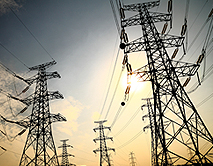 All villages and households shall be electrified.
Increase in agriculture yield.
Business of Small and household enterprises shall grow resulting into new avenues for employment.
Improvement in Health, Education, Banking (ATM) services.
Improvement in accessibility to radio, telephone, television, internet and mobile.
Betterment in social security due to availability of electricity.
Accessibility of electricity to schools, panchayats, hospitals and police stations.
Rural areas shall get increased opportunities for comprehensive development.
Budgetary Support
The full scheme entails an investment of Rs.43,033 core which includes the requirement of budgetary support of Rs.33,453 core from Government of India over the entire implementation period. All Discoms including private Discoms and State Power Departments are eligible for financial assistance under this Scheme. Discoms will prioritize strengthening of rural infrastructure work considering specific network requirement and will formulate Detailed Project Reports (DPRs) of the projects for coverage under the Scheme. Rural Electrification Corporation (REC) is the Nodal Agency for operationalization of this Scheme. It will furnish monthly progress reports on the implementation of the scheme indicating both financial and physical progress to Ministry of Power and Central Electricity Authority.
Monitoring committee
The Monitoring Committee under the Chairmanship of Secretary (Power) will approve the projects and also monitor implementation of the scheme. Suitable Tripartite Agreement will be executed between Rural Electrification Corporation on behalf of Ministry of Power, the State Government and the Discom to ensure implementation of the scheme in accordance with the guidelines prescribed under the scheme. Bipartite agreement will be executed in case of State Power departments.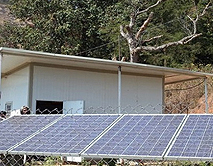 The projects shall be implemented on turn-key basis. The turn key contract shall be awarded after carrying out open competitive bidding process on fixed price basis (with no provision for price variation). The projects have to be awarded within three months of date of communication of the approval by the Monitoring committee. However, in exceptional circumstances, execution on partial turnkey/departmental basis shall be permitted with the approval of the Monitoring Committee.
Execution Period
Projects under this Scheme will be completed within a period of 24 months from the date of issue of Letter of Awards by the utility.
Funding Mechanism
Grant portion of the Scheme is 60% for other than special category States (up to 75% on achievement of prescribed milestones) and 85% for special category States (up to 90% on achievement of prescribed milestones). The milestones for the additional grant are timely completion of the scheme, reduction in AT&C losses as per trajectory and upfront release of subsidy by State govt. All North Eastern States including Sikkim, Jammu & Kashmir, Himachal Pradesh and Uttrakhand are included in special category States.
Exclusion under Scheme
Service lines to APL consumers
Underground cable works
Cost of land for sub-stations
Civil works other than sub-stations
Compensation towards right of way
Distribution automation and IT applications
Office equipment / fixtures
Spares (other than mandatory spares)
Tools and Plants(T&P)
Vehicles
AMR / AMI, Prepaid meters and Smart Meters.
Salaries and Establishment Expenditure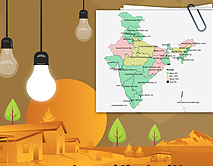 The project has been taken on mission mode and strategy for electrification consists of squeezing the implementation schedule to 12 months and also dividing village electrification process in 12 Stage milestones with defined timelines for monitoring.
Total 1654 villages were electrified during April 2015 to 14th Aug 2015 and after taking initiative by Government of India for taking it on mission mode, 5,689 additional villages have been electrified from 15th August 2015 to 17th April, 2016. In order to expedite the progress further, a close monitoring is being done through Gram Vidyut Abhiyanta (GVA) and various actions are also being taken on regular basis like reviewing the progress on monthly basis during the Review, Planning and Monitoring (RPM) meeting, sharing of list of villages which are at the stage of under energisation with the state Discom, identifying the villages where milestone progress are delayed.