Income Declaration Scheme, 2016 is launched by Income Tax Department, Govt. of India. The Scheme provides an opportunity to citizen who has not paid full taxes in the past to come forward and declare the undisclosed income and pay tax, surcharge and penalty totalling in all to forty-five per cent of such undisclosed income declared. One time opportunity to all the citizen who have not declare income correctly in the earlier years to come forward and declared such undeclared income. Declaration to be made from 1st June, 2016 to 30th September, 2016.
All citizen including individuals, HUFs, companies, firms, association of person etc. are eligible to make declaration under this scheme.
What is the amount payable by declarant?
Tax @ 30% of undisclosed income
Surcharge @ 7.5% of undisclosed income
Penalty @ 7.5% of undisclosed income
TOTAL: 45% OF UNDISCLOSED INCOME DECLARED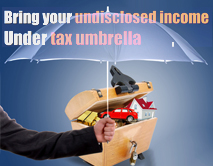 The Government is planning to collect a sizeable sum through this move which will go a long way to garner funds for infrastructure development and other essential spends.
As per Income Declaration Scheme, 2016, the declaration of income or income in the form of investment in any asset under section 183 shall be made in Form-1.
How to download Form-1 (IDS) Utility
Go to the Income e-Filing portal
Under "Downloads" section, click on "Forms (Other than ITR)"
Form 1 can be downloaded by clicking on the "Download" button.
Other Related Forms
Form 1- Declaration Form ( to be filled by declarant by 30th Sept, 2016).
Form 2- Acknowledgement of declaration ( to be issued by PCIT/CIT within 15 days from the end of the month in which declaration is filled).
Form 3- Imitation of payment of tax, surcharge & penalty ( to be furnished by declarant to PCIT/CIT 30th Nov, 2016).
Form 4- Certificate of declaration (to be granted by PCIT/CIT within 15 days from the date of intimation of payment).
All the information and forms related to Income tax is available on Income Tax Department, Govt. of India. The Income Tax Department, Govt. of India functions under supervision and control of Central Board of Direct Taxes (CBDT). It has around 60,000 personnel located in more than 500 cities and town across the country. The field offices are divided into regions and each region is headed by a Chief Commissioner of Income Tax. Every region is assigned annual performance targets like revenue collection and is provided with necessary expenditure budget to meet with its operating expense.
By using technology and requiring PAN disclosures for a range of transaction, the taxman is tightening the net on the generation of black money source. So, if you have undisclosed income, it is a good opportunity for you to declare it.
If you are a diligent taxpayer though, you can rejoice in the fact if the Government collects enough money through this drive, the tax base may widen. This will mean more social spends or even lower tax rates in future. You also need not feel short-changed as an honest tax paying citizen.
Highlights of PM Modi's speech on Mann Ki Baat
On the monthly 'Mann Ki Baat' radio address, Hon'ble Prime Minister Shri Narendra Modi raised among other subjects, the issue of undeclared assets. He announced that people with undisclosed assets have an opportunity to declare them before September 30..
"We lose our peace by violating rules, why not give correct information about our income and assets to Government?" he said in the radio address.
The declaration can be filed online or in print form to the jurisdictional Commissioner of Income-tax. The scheme promises immunity by exempting declared assets from Wealth Tax, scrutiny/enquiry and prosecution under Income-tax Act/Wealth-tax act, and immunity from Benami Transactions (Prohibition) Act, 1988.
The Prime Minister also said that declaring assets will help citizens avoid difficulties which they might face after September 30. "The country's population is 125 crore and only 1.5 lakh people have taxable income above 50 lakh rupees," he said.
In the address, PM Modi talked about his meeting with Chandrakant Kulkarni, a retired government employee, who is "giving almost a third of his pension for Swachh Bharat".
"In a country where a government employee donates Rs 5000 every month out of his monthly pension of Rs 16000, nobody has a right to evade taxes. He should be an inspiration," he was quoted saying by ANI.
All India lists of registered valuers of different classes of assets
Related Links