India has been working tremendously hard to eradicate HIV/AIDS which poses serious health challenges to a large population living in the country. Efforts are now being made to reduce the number of HIV cases to zero and the nation has already achieved a breakthrough to stop HIV prevalence in the last few years. However, there is a long way to go for an "AIDS Free India" as the country still has about 2.5 million people, aged between 15 and 49, estimated to be living with HIV/AIDS, the third largest in the world.
Based on the HIV Estimation 2012, India has demonstrated an overall reduction of 57% in the annual new HIV infections (among adult population) from 2.74 lakhs in 2000 to 1.16 lakhs in 2011, reflecting the impact of various interventions and scaled-up prevention strategies under the National AIDS Control Programme. The adult HIV prevalence has decreased from 0.41% in 2001 to 0.27% in 2011. Also, the estimated number of people living with HIV has decreased from 24.1 lakh in 2000 to 20.9 lakhs in 2011. Wider access to Anti-Retroviral Therapy (ART) has resulted in 29% reduction in estimated annual deaths due to AIDS related causes between 2007 and 2011. It is estimated that around 1.5 lakhs lives have been saved due to ART till 2011.
India has used extensive and ever increasing sources of HIV related data to plan programmes and monitor the impact of HIV prevention and care interventions.
Latest estimates from the Joint United Nations Programme on HIV/AIDS (UNAIDS) show that the world continues to close in on the goal of ending the AIDS epidemic by stopping HIV transmission and halting AIDS-related deaths. Remarkable progress has been made over the last decade-yet significant challenges remain.
What is AIDS? - A life threatening disease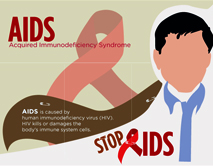 AIDS is a life threatening disease caused by the Human Immunodeficiency Virus or HIV. HIV makes it difficult for the body to fight infections. There is no cure for AIDS till now.
AIDS stands for Acquired Immunodeficiency Syndrome. An HIV-infected person receives a diagnosis of AIDS after developing one of the CDC-defined AIDS indicator illnesses. An HIV positive person who has not had any serious illnesses also can receive an AIDS diagnosis on the basis of certain blood tests (CD4+ counts). A positive HIV test result does not mean that a person has AIDS. A diagnosis of AIDS is made by a physician using certain clinical criteria (e.g. AIDS indicator illnesses). Infection with HIV can weaken the immune system to the point that it has difficulty fighting off certain infections. These types of infections are known as "opportunistic" infections because they take the opportunity a weakened immune system gives to cause illness. Many of the infections that cause problems or may be life-threatening for people with AIDS are usually controlled by a healthy immune system. The immune system of a person with AIDS is weakened to the point that medical intervention may be necessary to prevent or treat serious illness.
Facts on HIV/AIDS
---
HIV infects cells of the immune system
---
HIV can be transmitted in several ways
---
35.3 million people live with HIV worldwide
---
HIV is the world's leading infectious killer
---
Combination ART prevents the HIV virus from multiplying in the body
---
Close to 10 million HIV-positive people had access to ART in low & middle-income countries at the end of 2012
---
An estimated 3.34 million children are living with HIV
---
Mother-to-child-transmission of HIV is almost entirely avoidable
---
HIV is the strongest risk factor for developing active TB disease
---
HIV prevalence trend and strategies
Prevention is the mainstay of the strategic response to HIV/AIDS in India as 99 percent population of the country is uninfected. The HIV prevalence pattern in the remaining one percent population largely determines the prevention and control strategy for the epidemic in the country.
Awareness Raising
HIV infection is entirely preventable through awareness raising. Therefore, awareness raising about its occurrence and spread is very significant in protecting the people from the epidemic. It is for this reason that the National AIDS Control Programme lays maximum emphasis on the widespread reach of information, education and communication on HIV/AIDS prevention. Changing knowledge, attitudes and behavior as a prevention strategy of HIV/AIDS thus is a key thrust area of the National AIDS Control Programme.
AIDS in India
In India, the first case of HIV was detected in 1986, mostly among sex workers. The virus then spread rapidly across the nation, with 135 more cases coming to light by among which 14 had already progressed towards AIDS2. In this scenario, the Government of India took the first step towards combating HIV with setting up screening centres. These centres were meant to monitor the citizens as well as the blood banks. Later in the year, a National AIDS Control Programme (NACP) was launched to coordinate the national responses of surveillance, blood screening details and programmes of health education.
However, the beginning of 1990 witnessed a sudden increase in the number of HIV cases, triggering the set up of National AIDS Control Organisation (NACO) by the Government of India. The NACO was delegated with the responsibility of formulating, implementing and monitoring policies concerning prevention and control of HIV and AIDS in the country; in addition, it took control of the NACP implementation for HIV prevention. Under NACP, administrative and technical basis for programme management was established and State AIDS Control Societies (SACS)s and 7 union territories.
Beginning of National AIDS Control Programme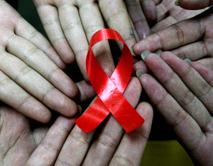 In 1992, the Government of India demonstrated its commitment to combat the disease with the launch of the first National AIDS Control Programme (NACP-I). The programme, implemented during 1992-1999 with an IDA Credit of $84 million, had the objective to slow down the spread of HIV infections so as to reduce morbidity, mortality and impact of AIDS in the country. To strengthen the management capacity, a National AIDS Control Board (NACB) was constituted and National AIDS Control Organisation (NACO) was set up for project implementation.
The Phase II of the National AIDS Control Programme was launched in 1999. It was a 100% centrally sponsored scheme implemented in 32 States/UTs and 3 Municipal Corporations namely Ahmedabad, Chennai and Mumbai through AIDS Control Societies.
The government designed and implemented NACP III (2007-2012) with an objective to "halt and reverse the HIV epidemic in India". All these efforts helped in a steady decline in overall prevalence and decrease in new infections over last ten years.
NACP-IV and Roads Ahead for "AIDS Free India"
The strategy and plan for National AIDS Control Programme Phase-IV (NACP-IV) has been developed through an elaborate multi-stakeholder consultative planning process for the period 2012-2017.
NACP-IV aims to accelerate the process of reversal and to further strengthen the epidemic response in India through a cautious and well defined integration process over the five years. Its main objectives are to reduce new infections and provide comprehensive care and support to all PLHIvs and treatment services for all those who require it.
The main strategies include intensifying and consolidating prevention services, increasing access and promoting comprehensive care, support and treatment, expanding IEC services, building capacities at national, State, district and facility levels and strengthening Strategic Information Management Systems.
NACP is an excellent example of community involvement and ownership in developing appropriate strategies and in reaching out to high risk and vulnerable populations. The programme has been greatly benefited by the critical role played by civil society and PLHA networks in community mobilization, increasing access to services, addressing stigma and discrimination issues.
Results of the epidemiological models and programme data (surveillance ANC, HRG population, and ICTC) shows that the target of halting the epidemic has been achieved and reversal process has been initiated at the national level during the given time frame.
ART - Remedy to reduce HIV infection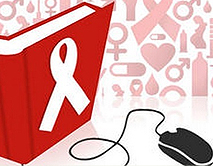 AIDS has no cure but people can still live a normal life. HIV infection is not the end of life as infected persons can lead a healthy life for a long time with appropriate medical care and support. The Anti-retroviral therapy (ART) effectively suppresses replication, if taken at the right time. Successful viral suppression restores the immune system and halts onset and progression of disease as well as reduces chances of getting opportunistic infections - this is how ART is aimed to work. Medication thus enhances both quality of life and longevity.
Mass Media Campaigns
NACO has been conducting regular thematic Mass Media campaigns on TV and Radio to cover issues of condom promotion, ICTC/PPTCT, STI treatment and services, stigma and discrimination, vulnerability of youth to HIV, ART, HIV-TB and blood safety.
About World AIDS Day
World AIDS Day is held on 1 December each year. The Day is treated like an opportunity for people worldwide to unite in their fight against HIV, show their support for people living with HIV and to commemorate people who have died. World AIDS Day was the first ever global health day and the first one was held in 1988.
Bilateral and Multilateral Partners helping India combating AIDS
Prevention and control of HIV/AIDS epidemic require organisation of resources, technology and concerted effort both at local and global level. The costs of prevention and control are high. In India a number of international organisations are working with the National AIDS Control Organisation (NACO) in addressing HIV/AIDS issue by contributing their technical expertise and financial resources. This collaboration is as old as the government programmes on HIV/AIDS.
Red Ribbon Express programme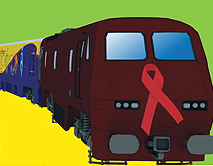 The Red Ribbon Express (RRE) programme covered 8 million population and 81,000 grassroots functionaries were trained on HIV/AIDS issues in the villages to further take down the messages. In addition, through mainstreaming with NYKS and other youth organizations, out-of-school youth have been reached. As part of mainstreaming efforts a large number of self-help groups, ASHA, ANM, Anganwadi workers and PRI members have been trained/ sensitized on HIV/AIDS.
Details of service facilities available for HIV/AIDS patients in various states of India
India strives to achieve Millennium Development Goals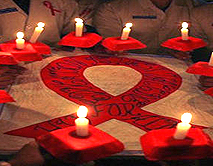 India is committed to achieving Millennium Development Goals (MDG) in reducing HIV mortality. The country is clearly progressing towards achieving this goal through focused effort by a large number of partners brought together through the National AIDS Control Programme.
Know Your Rights
The Fundamental Rights embodied in the Indian Constitution act as a guarantee that all Indian citizens enjoy rights such as equality before the law, freedom of speech and expression, freedom of association and peaceful assembly, freedom of religion, and the right to constitutional remedies for the protection of civil rights.
It does not matter if an individual is affected or infected by HIV. "There can be no valid or effective response to HIV/AIDS without respect for the human rights, fundamental freedom and the dignity of human beings."
Three of the most important rights in the HIV scenario include:
Right to Informed Consent

The implications of HIV are very different from most other illnesses. Testing for HIV requires specific and informed consent of the person being tested and any research on data of HIV positive people.
Right to Confidentiality

A person has the right to keep information on HIV status confidential. People with HIV are often afraid to go to court to vindicate their rights for fear of their HIV status becoming public knowledge. However, they can take the help of Suppression of Identity under a pseudonym. This ensures that PLHA can seek justice without fear of social ostracism or discrimination.
Right against Discrimination

The right to be treated equally is a fundamental right whether it's something as simple as using a public well or something more serious like denial of housing.

You can seek remedy in a court of law if you are tested for HIV without informed consent, or your confidentiality is breached, or any of your rights have been violated. You have the support of the legal system to ensure it.
For more details, please contact:
National AIDS Control Organisation (NACO)
Lawyers Collective HIV/AIDS Unit
Mumbai :- Tel: 022-22875482/3, email: aidslaw[at]lawyerscollective[dot]org
New Delhi :- Tel: 011-24377101/2, email: aidslaw1[at]lawyerscollective[dot]org
Bangalore :- Tel: 080-41239130/1, email: aidslaw2[at]lawyerscollective[dot]org
Related links