Mohandas Karamchand Gandhi is one of the most influential and inspiring personalities in the world today. Famous as an apostle of peace and non-violence, Gandhiji was born in a middle class family on 2nd October, 1869, at Porbandar, a coastal city in the Indian state of Gujarat.
Gandhiji was an ordinary child and his mother played a key role in shaping his life and career. He was only seven when his family went to Rajkot where his father, Karamchand Gandhi became Dewan. He attended a primary school as well as high school in Rajkot. After completing his matriculation from the high school, Bapu joined the Samaldas College in Bhavnagar. Meanwhile, his father had died in 1885. He decided to leave for England but his caste people were offended as they believed that crossing the ocean contaminates a person. However, Gandhiji was adamant and was thus formally excommunicated by his caste. He sailed on September 4, 1888, for Southampton at the age of eighteen.
Learning about Mahatma
Life in London
It was no easy for Gandhji to adjust in London. The first few days were really difficult. He came across two theosophist brothers who introduced him to Sir Edwin Arnold's translation in English verse of the Bhagavad Gita. Gandhiji's attitude changed and he developed respect for all religions. He became eager to learn about all religions in early days of his life.
Face to face with Racism
In April 1893, Gandhiji went to South Africa on receiving an offer from Dada Abdulla & Co. On his arrival he sensed the oppressive atmosphere on racial line. Indians in South Africa were all looked down upon as pariahs by the white settlers and called coolies or Samis. Hence a Hindu doctor was a coolie doctor and Gandhiji himself a coolie barrister. This atmosphere of racism made Bapu uncomfortable and he decided to fight this injustice.
Train Journey in South Africa
South Africa changed Gandhiji and it became a turning point of his life. The country confronted him with many challenges and difficulties, and profoundly transformed him as a person. Gandhiji had arrived in Durban in 1893 to serve as legal counsel to the merchant Dada Abdulla. He faced the discrimination commonly directed at black South Africans and Indians. One day in the court in Durban, the Magistrate asked him to remove his Turban, Gandhiji denied and left the court.
On 31st May 1893, Gandhiji was on his way to Pretoria, a white man objected to his presence in a first-class carriage, and he was ordered to move to the van compartment at the end of the train. Gandhiji, who had a first-class ticket, refused, and was therefore thrown off the train at Pietermaritzburg. Shivering through the winter night in the waiting room of the station, Bapu made the momentous decision to stay on in South Africa and fight the racial discrimination against Indians and others. Out of that struggle emerged his unique version of non-violent resistance, "Satyagraha". Today, a bronze statue of Gandhiji stands on Church Street, in the city centre.
It was during this second period in South Africa that Gandhi's mode of living underwent a sea change. He began to reduce his wants and his expenses. He became his own washerman, ironing his own clothes, learnt to cut his own hair. Not satisfied with self-help, he volunteered for two hours a day as compounder in a charitable hospital. He also read books on nursing and midwifery. The Boer war broke out in 1899, Bapu organised with the help of Dr. Booth to impart training to an Indian Ambulance Corps of 1,100 volunteers and offered its services to the Government. The corps under Gandhi's leadership rendered valuable service. What pleased Gandhi most was the fact that Indians work as brothers and faced danger together rising above the prejudices of creed, caste or race.
Tour of India
Gandhiji's returned to India in January 1915, a Mahatma, with no possessions and with only one ambition - to serve his people. Though the intelligentsia had heard of his exploits in South Africa, he was not much known in India and Indians in general did not realize that "the Great Soul in beggar's garb", as the bard-poet Tagore called him later, had reached her shores. The first year in India Gandhiji decided to tour the country studying, with "his ears open but his mouth shut". At the end of his year's wanderings, Gandhiji settled down on the bank of the river Sabarmati, on the outskirts of Ahmedabad, where he founded an ashram in May 1915. He called it the Satyagraha Ashram.
Satyagraha in Champaran
His first Satyagraha was in Champaran, in Bihar in 1917, where he went at the request of the exploited indigo planters of that district. Gandhiji was ordered to leave district by the administration and when he refused the embarrass magistrate postponed the trial and released him without bail. The success of his first experiment in Satyagraha in India greatly enhanced Gandhiji's reputation in the country.
Salt March to Dandi
Gandhi launched a new Satyagraha against the tax on salt in March 1930. This was highlighted by the famous Salt March to Dandi from 12 March to 6 April, where he marched 388 kilometres (241 miles) from Ahmedabad to Dandi, Gujarat to make salt himself. Thousands of Indians joined him on this march to the sea. This campaign was one of his most successful at upsetting British hold on India. This simple act was immediately followed by a nation-wide defiance of the law.
With the outbreak of World War II in 1939, Gandhi intensified his demand for independence, drafting a resolution calling for the British to Quit India and prepared to organize Satyagraha resulting in mass arrests and violence on an unprecedented scale. He even clarified that this time the movement would not be stopped if individual acts of violence were committed, saying that the "ordered anarchy" around him was "worse than real anarchy." He called on to maintain discipline via Ahimsa, and Karo Ya Maro ("Do or Die") in the cause of ultimate freedom.
End of remarkable journey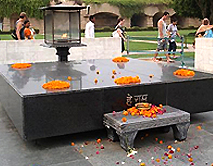 Gandhiji was shot as he was walking to a platform from which he was to address a prayer meeting in Birla House on January 30, 1948. Gandhi fell with his lips uttering 'Oh God, Oh God'. He occupied the centre of the Indian stage from 1919 till his death in 1948. Bapu was the true hero of the historical drama which culminated in the independence of India in 1947. He changed the entire character of the political scene in India. Of no less importance was what he did for those who were once known as the untouchables. He freed millions of human beings from the clutches of caste tyranny and social indignity. The moral influence of his personality and his gospel of non-violence is accepted the world over. Its value is not limited to any particular country or generation. He remains an imperishable gift to humanity.
Mahatma Gandhi Peace Prize
The Government awards the annual Mahatma Gandhi Peace Prize to distinguished social workers, world leaders and citizens. Nelson Mandela, the leader of South Africa's struggle to eradicate racial discrimination and segregation, is a prominent non-Indian recipient of this award.
Gandhiji was nominated five times between 1937 and 1948 for the Nobel Peace Prize. When the 14th Dalai Lama was awarded the Prize in 1989, the chairman of the committee said that this was "in part a tribute to the memory of Mahatma Gandhi." Gandhiji's life has been portrayed in films, literature and in the theatre.
Related Links