Students need financial support as well as encouragement to pursue higher studies. Today, the higher education is more expensive than ever before, making it difficult for many students to afford courses and colleges of their choices. Talented Indian students face financial challenges and hardship to afford costly higher education therefore the Government of India provides them with financial help by giving them scholarships. Earlier, the process of availing benefits under various educational scholarship schemes was a difficult task for students due to lengthy paperwork. They had to run from one place to another for getting financial help through educational scholarships by the Government.
The National Scholarship Portal is a unique and simplified platform created for students to help them avail benefits of educational scholarships in an efficient and transparent manner.
Launched by Hon'ble Prime Minister of India, the National Scholarship Portal (NSP) is a one-stop solution through which various services starting from student application, application receipt, processing, sanction and disbursal of various scholarships to students are enabled. The National Scholarships Portal is taken as Mission Mode Project under the National e-Governance Plan (NeGP). This initiative aims at providing a Simplified, Mission-oriented, Accountable, Responsive & Transparent 'SMART' System for faster & effective disposal of scholarship applications and delivery of funds directly into beneficiaries account without any leakages.
Objectives:
Ensure timely disbursement of Scholarships to students
Provide a common portal for various Scholarships schemes of Central and State Governments
Create a transparent database of scholars
Avoid duplication in processing
Harmonisation of different scholarships schemes & norms
Application of Direct Benefit Transfer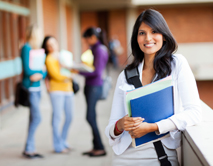 Benefits of NSP for students
Simplified process for the students

All scholarships information available under one umbrella
Single integrated application for all scholarships

Improved transparency

System suggests the schemes for which a student is eligible
Duplicates can be reduced to the maximum extent (can be eliminated totally if AADHAAR is made mandatory)

Helps in Standardisation

Master data for Institutions and courses at all India level
Scholarships processing

Serves as a decision support system (DSS) for Ministries and departments as up-to date information will be available on demand
Comprehensive MIS System to facilitate monitoring every stage of Scholarships distribution i.e. from student registration to delivery of funds
Vidya Lakshmi Portal for Educational Loans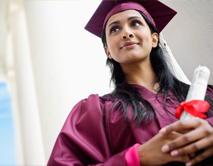 A web-based portal namely Vidya Lakshmi was launched on the occasion of Independence Day i.e. 15th August, 2015 for the benefit of students seeking educational loans. The Portal has been developed and maintained by NSDL e-Governance Infrastructure Limited (NSDL e-Gov) under the guidance of Department of Financial Services, Ministry of Finance, Department of Higher Education, Ministry of Human Resource Development and Indian Banks' Association (IBA).
Earlier the Union Finance Minister Shri Arun Jaitley in the Union Budget for 2015-16 inter-alia had proposed to set-up a fully IT based Student Financial Aid Authority to administer and monitor scholarship as well as educational loan schemes, through the Pradhan Mantri Vidya Lakshmi Karyakram (PMVLK) to ensure that no student misses out on higher education for lack of funds. The launch of the aforesaid portal is a first step towards achieving this objective.
Vidya Lakshmi Portal is a first of its kind portal providing single window for students to access information and make application for educational loans provided by banks. The Portal has the following features:
Information about Educational Loan Schemes of Banks
Common educational loan application form for students
Facility to apply to multiple banks for educational loans
Facility for banks to download students' loan applications
Facility for banks to upload loan processing status
Facility for students to email grievances/queries relating to educational loans to banks
Dashboard facility for students to view status of their loan application and
Linkage to National Scholarship Portal for information and application for Government Scholarships
This initiative aims to bring on board all banks providing educational loans. It is expected that students throughout the country will be benefited by this initiative of the Government by making available a single window for access to various educational loan schemes of all banks.
Related Links