The first quarter of 2021 saw resurgence of hope and economic activity, indicating return of normalcy since the battle with the global pandemic began in the past year. With the onset of April, as the second wave of COVID-19 became apparent, various Government and corporate, social etc entities have mustered several resources to mitigate the suffering, and try saving lives and livelihood.
The compilation here is merely an indication of the spirit and potential that collective action holds. Together, we succeeded in the initial months by flattening the curve, and with this bigger relapse, are hopeful that we will yet again overcome all challenges thrown by this virus.
Latest Information About COVID-19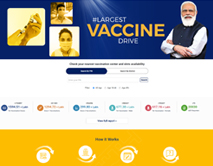 The latest facts and figures about the numbers of vaccinations done, samples tested & number of total & active cases etc are available on a single resource.
Beginning with the first phase of vaccinations for Frontline and Healthcare workers, India embarked on its fight against COVID-19 earlier this year. The second phase was then commenced to vaccinate those who are 45 years and above. Effective 1st May, 2021 vaccinations have begun for those aged 18 years and above. With over 15 crore vaccinations done till date, India is steadily poised to combat the menace of the pandemic.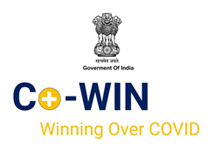 Citizens can register themselves for vaccination using their Aadhaar, Mobile number, or any other Identity documents. The Co-WIN Portal allows easy registration. The work flow is pretty simple right from logging in using a mobile number and OTP, to registration of self and maximum 3 others, to scheduling an appointment for vaccination at a nearby centre, to getting an SMS that confirms the appointment, and also downloading the appointment slip as well as the vaccination certificate after each of the 2 doses are administered.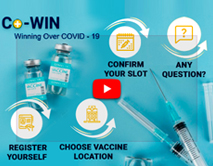 Citizens can also register for the vaccination from the Aarogya Setu app. This is also an easy process, and explained well in the video that walks through the steps.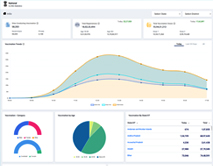 The Co-WIN Dashboard offers the complete statistics of India's vaccination efforts to overcome the pandemic effectively. This includes figures about the number of sites conducting vaccination, the total registrations done till date, and the total vaccination doses. The dashboard also shows the breakup of vaccinations by gender, age, and by States, along with various trends such as registrations, vaccinations, and even any AEFIs (Adverse Event Following Immunization).
Information about Treatment, Oxygen, Medicines, Plasma Therapy, Hospital Beds etc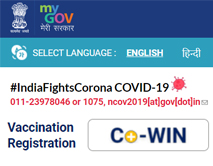 Citizens can view and join India's valiant fight against the virus on MyGov. The portal offers information about the total vaccinations, total tests done, active cases, recoveries in multiple languages such as Assamese, Bangla, English, Gujarati, Hindi, Kannada, Malayalam, Marathi, Odia, Punjabi, Tamil, and Telugu. Citizens can arm themselves with authentic information about COVID-19 from experts in the form of illustrations, blogs, FAQs, Guidelines, infographics & videos & podcasts. They can additionally participate in activities that not only boost the morale of frontline health professionals, but also motivate fellow citizens by posting pics of vaccination of self and family members.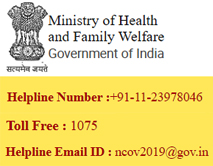 The Ministry of Health and Family Welfare is spearheading the fight against COVID-19, and its website offers a collection of all resources that one may need to get quick information such as Helpline numbers, Helpline Email ID, along with a list of COVID Facilities across India in each State/UT. Guidelines and Protocols such as for Home isolation of mild /asymptomatic cases, along with notifications for augmenting resources for overcoming the pandemic are present in addition to awareness material and State wise statistics.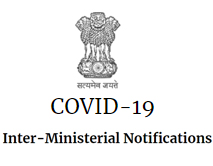 Citizens have braved the tremendous, unpredictable and unprecedented challenges posed by successive waves of the pandemic, with apt support from the Government in the form of the COVID-19 Inter-Ministerial Notifications website, which is a single-stop destination at of all COVID-19 specific notifications from various ministries. Additionally, the site support resources such as toll free numbers of a Central Control Room, along with State/UT Helpline numbers, and a COVID-19 specific email Id.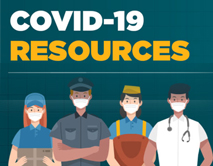 Many affected patients and their attendants are occasionally seeking authentic and reliable information about appropriate treatment of COVID-19, and availability of vital resources such as Oxygen, Medicines, Plasma Therapy, Hospital Beds. This compilation is an attempt to put in one place various resources that may help.
Related Links