Saansad Adarsh Gram Yojana (SAGY) was launched on 11th October 2014 with the aim to translate the comprehensive vision of Mahatma Gandhi about an ideal Indian village into reality, keeping in view the present context. Under SAGY, each Member of Parliament adopts a Gram Panchayat and guides its holistic progress giving importance for social development at par with infrastructure. The 'Adarsh Grams' are to become schools of local development and governance, inspiring other Gram Panchayats.
By involving villagers and leveraging scientific tools, a village development plan is prepared under the leadership of Member of Parliament. The distinct feature of this Yojana is that it is:
Demand Driven
Inspired by Society
Based on People's Participation
Objective of SAGY?
The main objective of SAGY are:
To trigger processes which lead to a holistic development of the identified Gram Panchayats
To substantially improve the standard of living and quality of life of all section of the population through -

Improved basic amenities
Higher productivity
Enhanced human development
Better livelihood opportunity
Reduced disparities
Access to right and entitlements
Wider social mobilization
Enriched social capital

To generate models of local level development and effective local government which can motivate and inspire neighboring Gram Panchayats to learn and adapt
To nurture the identified Adarsh Grams as schools of local development to train other gram panchayat
Different approach to achieve the objectives of SAGY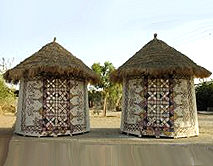 Leveraging the leadership, capacity, commitment and the energy of the Member of Parliament to develop model Gram Panchayat.
Engaging with and mobilizing the community for participatory local level development.
Converging different government programs and private and voluntary initiative to achieve comprehensive development in tune with people's aspiration and local potential.
Building partner with a voluntary organization, co-operative and academic and research institutions.
Focusing on outcomes and sustainability.
How to select a village for Saansad Adarsh Gram Yojana?
A Gram panchayat would be the basic unit. It will have a population of 3000-5000 in plain areas and 1000-3000 in the hilly, tribal and difficult area.
The MP would be free to identify a suitable Gram Panchayat to be developed as Adarsh Gram, other than his/her own village or that of his/her spouse.
The MP will identify one Gram Panchayat to be taken up immediately, and two other to be taken up little later.
Lok Sabha MP has to choose a Gram Panchayat from within his/her constituency and Rajya Sabha MP a Gram Panchayat from the rural area of a district of his/her choice in the State from which he/she is elected.
Activities in an Adarsh Gram
An Adarsh Gram should evolve out of people's shared vision, using their capacities and available resources to the best extent possible, duly facilitated by the MP, the Gram Panchayat, civil society and the government machinery. Naturally, the elements of an Adarsh Gram would be contexted specific. However, it is still possible to broadly identify the important activities. They would include:
Personal Development
Social Development
Human Development
Economic Development
Environmental Development
Social Security
Basic amenities & services
Good Governance
Strategy to convert the identified village into Adarsh Gram
The entry point activities to energize and mobilize the community towards positive common action.
Participatory planning exercise for identifying peoples' needs and priorities in an integrated manner.
Converging resources from Central Sector and Centrally Sponsored Schemes and also other State schemes to the extent possible.
Repairing and renovating existing infrastructure to the extent possible.
Strengthening the Gram Panchayats and peoples' institutions within them.
Promoting transparency and accountability.
Use of Technology and Innovation in SAGY
Adoption and adaption of technology and introduction of innovation are critical to this program. These would broadly in the following areas:
Space application and remote sensing
Mobile based technology
Agriculture related technology and innovations
Livelihood related technologies and innovations
Appropriate building construction technologies
Road construction technologies
Water supply and sanitation related technologies
Related Links