To boost the Startup ecosystem in India, Shri Piyush Goyal, Honourable Cabinet Minister for Railways, Commerce and Industry, Consumer Affairs, Food and Public Distribution launched the Startup India Seed Fund Scheme on 19th April 2021.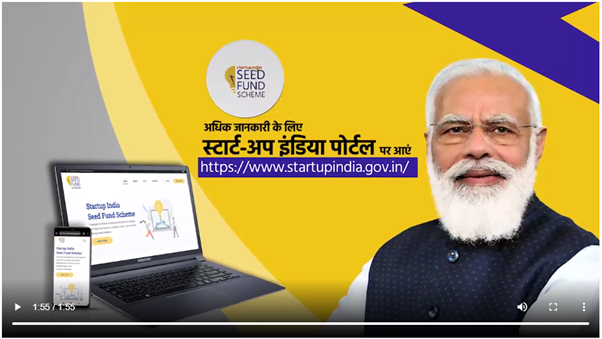 The scheme aims to provide startups with financial assistance at their early stages such as proof of concept, prototyping, product trials, market entry and commercialization.
Once a startup gets access to capital at the early stage, it improves the potential for the enterprise to scale to a level where funding can be sought from angel investors, venture capital firms, Banks and other financial institutions.
Department for Promotion of Industry and Internal Trade (DPIIT) has created an Experts Advisory Committee (EAC) to execute and monitor the Startup India Seed Fund Scheme. The EAC will select eligible incubators who will be provided grants of upto Rs 5 Crores each. In turn, the selected incubators will provide startups with up to Rs 20 lakhs for validation of Proof of Concept, prototype development, product trials to startups.
Moreover, up to Rs 50 lakhs shall be provided to the startups for market entry, commercialization, or scaling up through convertible debentures or debt-linked instruments. Detailed guidelines of the Startup India Seed Fund Scheme are available on the Startup India portal.
It is anticipated that the startups that receive support at their early stages shall create significant employment opportunities for everyone.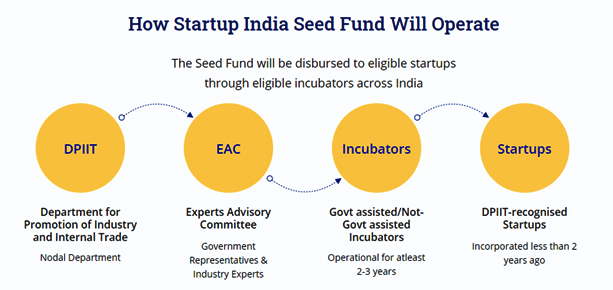 ~3600 Startups expected to benefit from SISFS
~300 Virtual Incubators to be promoted for supporting startups
INR 945 crore corpus divided over 4 years, starting FY2021-22, to be disbursed through eligible incubators
Year-round 'Call for Applications' for Incubators and Startups
Sector-agnostic
No mandatory physical incubation
PAN-India startup programme
Startups can apply to 3 incubators simultaneously
Related Links